Event // Adelaide Rally 2019
Words by Andrew Coles
Photography by Luke Jaksa and Andrew Coles
Champagne sprays in the golden sunset as Adelaide's vibrant East End comes to a stop and watches on. It's an evocative scene, and the image above captures just why we love the annual Adelaide Rally so much. It's not held at some dusty track or in a forest far away, out of sight and out of mind. No, it's one of the few rallies in Australia, if not the only one, to be based right in the city centre.
That little detail alone makes it a fun event, even if the roads weren't as good as they are. Its central base at the Adelaide Showgrounds means you're never far away from a good coffee in the morning or a cold pint in the afternoon. Of course all your friends come out for a look, because an hour or two watching rally cars can easily be twinned with dinner afterwards. It's a small detail, but a crucial one in making for a good week of motorsport for all involved.
However, this is still the Adelaide Hills after all, and the roads are every damn bit as good as you think they are. And the fact that they're so close to the city is what makes an event like this possible. Believe it or not, but this jump is just fifteen minutes from the city centre and you drive right past two of our favourite coffee shops to get there. What more could you possibly ask for from a season-ending rally?
The Adelaide Rally week is always a big one for us at Sports Car Safari and every year since its inception we've been involved in one way or another. 2019 marked a simplification of sorts with the temporary axing of the usually-concurrent Adelaide Motorsport Festival and Victoria Park Sprint, but this just meant all focus was on the rally and with some 320 cars spread from gentle touring to balls-to-the-wall competition, it was set to be a full-on week of motorsport in the Aussie sun.
No competition for us this year. The helmets were sadly left in the cupboard, but instead we came armed with cameras and took on media duties for the event. Things may have been a little quiet on the SCS channels, but you may have seen our images popping up in places like Adelaide Now, Speedcafe and Rallysport News.
We've said it before and we'll say it again, but there really is nothing like rally week. The feeling of anticipation, a dull excitement which gradually increases day by day until that first car takes the start on Day One. For us it was extra special, a homecoming of sorts. I (Andrew) may be based in the UK but Adelaide is firmly home to Sports Car Safari, and over the past few years Adelaide Rally has proven to be the only event that Luke and myself cover together as a team. And Sunday's scrutineering was not only the first chance for us to catch up in person for months, but the first time seeing most of our friends in a while, too.
There really is nothing like rally week. Everyone has a vague list of things to check off before the event gets underway but nothing is too urgent, so of course there's time to meet at the pub for lunch. And while we didn't have rally cars of our own to prep or pacenotes to check, we still had a fair few things to sort out.
Item one was a thorough workout for the SCS Fiat X1/9. It sadly spends 11 and a half months of the year under a cover in the garage doing nothing, so whenever I come home to Adelaide, job one is to take it for a decent canter.
And while we might not have pace notes to write or check, we do have a full course recce of our own to complete. It surprises a lot of people when we say this, but turning up to a corner and pressing our camera's shutter button is just the final step in a long process. The secret to good rally photography is in the preparation and the planning. It's in carefully mapping out the course weeks in advance, studying the route and the road closures to work out what is feasible and possible. It's in taking this plan and checking it on the ground, physically driving to the corners and working out in advance exactly where you'll stand to save time if you're running late. A corner that was good last year might be rubbish this year – maybe a farmer has erected a shed which blocks a view, or the council has resurfaced the road, ironing out that bump that unsettled the cars.
It's almost like a military operation. I knew that I wanted to shoot two different corners on Day One but I wasn't sure if I'd have time to catch them both, so on the Monday before the rally I drove from one to the other and timed myself, so that come rally time, I knew for sure that I could make it. It's hard, time consuming work, but borrowing a fun car certainly improves the experience and for what it's worth, the Toyota 86 is bloody brilliant fun in the hills. This one belongs to my long suffering Father and I really didn't want to give it back!
Of course, the closer to the event you get, the more serious people start becoming. It was a relatively late start for the first day and we walked the service park at the showgrounds as crews made last minute checks and adjustments. The atmosphere was still relaxed but the jokes became a little less frequent, the conversations a little shorter. Everyone has somewhere to be and something to do all of a sudden. Same with us. It doesn't matter how many times you've checked batteries or SD cards or have gone over the plan with the team, there's always a need to check again until you get underway for real.
As much as we enjoyed the buildup, it felt good to get the event and Day One underway on Wednesday. Rally cars in the Adelaide Hills under bright sunshine, is there anything better? Tricky for photos due to the harsh shadows and bright midday sun, but really rather pleasant for everyone else.
I won't lie, there was a slight tinge of jealousy every time I saw Guy Standen's sublime Alfa Romeo 2600 Sprint go by. That was my ride in the co-driver's seat for the past few Adelaide Rallies and a pair of attempts at Targa Tasmania, and while Guy was only running around as tour follow car, a tiny element of doubt crept in as to my decision to swap helmet for camera. This was always bound to happen though, and I'd prepared myself for it.
But we were in no place to complain. When it's warm and the sun is shining and there's rally cars and roadside beers with mates at the conclusion of a day's competition, one must surmise that we were indeed living the dream. This is exactly why Luke and I started Sports Car Safari, because we get to call this work. Not all the time, mind you. But sometimes, and it's the sometimes that make it all worth chasing.
There's a somewhat sobering note to mention regarding the Cudlee Creek bushfire which tore through parts of the Adelaide Hills about a fortnight after the rally passed through. It's unsettling to think that where I stood to take the two photos above on Fox Creek Road is now nothing but charred ash and cinder. The locals we said a rushed good morning to as they stood on their verandah waiting for the cars – was their home burnt to the ground? The vineyard we parked alongside – is it too just ash now? Some 86 homes were lost, and an astonishing one third of the vines in the Adelaide Hills Wine Region were burnt. Cellar doors that support rallying in South Australia, such as Anderson Hill, are facing immense difficulties in rebuilding, with the impact likely to be felt for several vintages to come. I know of a few competitors in the Adelaide Rally who came frighteningly close to loosing their homes and sheds and rally cars; some may even have.
The bush is designed to rebound from these fire events stronger and healthier than before. Here's hoping the local communities that welcomed us so warmly receive the support they need to help them do the same.
A proud tradition that has been carried on since the earliest Classic Adelaide heydays in the late 90s is the Gouger Street Party. The concept is simple – Friday's stages finish up in the heart of Adelaide's Chinatown district, and the restaurants overflow onto the streets as the Friday night office crowds fill in and mix with the cars. We're all about the racing first and foremost, but the Gouger Street Party is always a good time.
This observation is made from nothing more than some careful eavesdropping, but I felt like a good proportion of the crowd that Friday night was relatively new to motorsport. They were out discovering it, seeing what it's all about. Taking their kids to see and feel and smell. And as much as we can fund focus groups and implement expensive programs at great cost, events like this is what will secure the future of our sport. Getting it out among the people, smashing down those barriers and letting people access the sport in a really easy, fun and enjoyable way. I wonder how many kids and young teenagers were as utterly mesmerised by the rotational idle on the Prodrive Subaru as I was, and how many will one day attribute events like Gouger Street as what got them involved? I'm sure there'd be more than a few.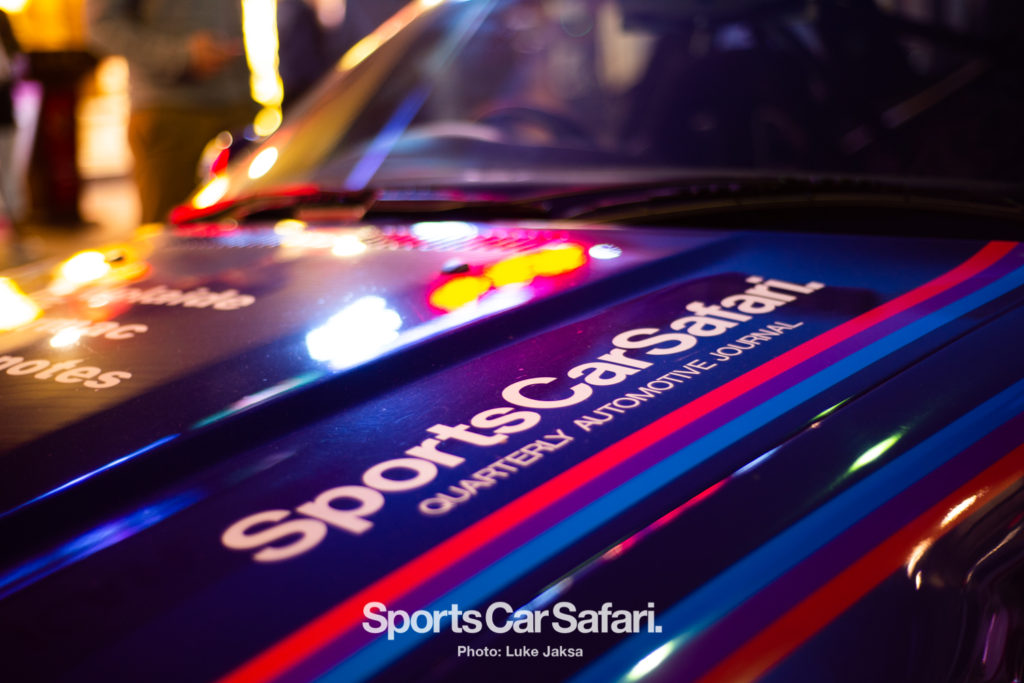 With Friday night ticked off, it was just a sprint home to the finish through some of the finest driving roads Australia has to offer, all within an hour of the city. At Sports Car Safari we were starting to feel the pain of a trio of 18-hour work days. We ran on adrenaline alone. Up early, coffee on the way to the first stage, a full day of shooting in the sun, a beer at a pub close to the day's last stage while editing the press release shots to get them online by the 630pm deadline, drive home, edit a larger gallery until midnight, crash. Repeat. One of the days I began to feel faint at 11pm and then remembered I'd only had two slices of toast for breakfast, two coffees and two beers with friends in the evening. That was it. Pure adrenaline, and only advisable in small event-based doses.
Saturday's props went to Gordon for absolutely sending the Volvo over the Mt Lofty jump. This is a lightly tuned road car in the non-timed Spirit Tour category, and just look at his air compared to some of the leading competitors! That's commitment.
Four days of tarmac rallying was capped off with a street stage in the heart of Adelaide's Rundle Street. Some showed off and some played it safe, just happy to reach the finish.
Having the last stage of the rally finish on a late Saturday afternoon about 100m from the front bar of the Stag Hotel made for an electric atmosphere. King performance had to go to our friend Andy Sarandis – Andy co-drove with Ben Newman to second place outright in Modern Competition in a WRX STI Spec C and the pair swapped seats for the final stage. First time even sitting in the driver's seat in front of a large crowd. Nothing to gain, everything to loose, let's take it easy shall we? Nah… helis around the cones for the crowd… well done, Sir.
It seems having a Sports Car Safari sticker on your car must be good luck. KVS and Viso finished second in Classic Challenge in the 944, Tim and Karl finished Third in Modern Challenge in the E36 M3, and after a spectacular battle with the TR7 of Craig Haysman and Julie Boorman all week, our own Michael Busby and Damian Reed won Classic Competition Outright in the SCS Magazine liveried FC RX-7.
Modern Competition and the outright rally win went to the Ireland/Ireland Dodge Viper ACR Extreme, which never looked especially on the limit but solidly romped home a reliable performance and a basket of stage wins to take the overall victory.
We finished up the Adelaide Rally week exactly as we did in 2018 – standing waist-deep in water at the beach, sipping beers with rally friends and watching the December sun slowly set into the horizon.
Sports Car Safari has been privileged to attend some pretty incredible events in 2019, but the Adelaide Rally was right up there as the most fun and enjoyable. Getting the band back together, perhaps? See you in 2020…